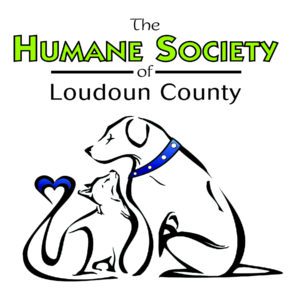 Each Humane Society is an independent organization; "Humane Society" is just a descriptive word — like the word 'bank' is in US Bank and Bank of America. They are not connected to each other. It can be confusing!
Many people even mistakenly think that the Humane Society of the United States runs all humane societies. They do not! They do help animals through legislation and in disasters, but do not have a shelter themselves.
Some Humane Societies, like the Humane Society of Loudoun County (HSLC), are "limited admission". Limited admission organizations sometimes have their animals for many months, and use foster homes.   That means they do not have to euthanize animals to make room for new pets they take on. And many, like HSLC, have other programs that help the local animal population, like a pet pantry (Loudoun Pet Pantry) so families in need don't have to surrender their pets simply because they can't afford to feed them, partial help when medical emergencies arise, and resources for behavioral issues. The Community cat program is major part of HSLC, helping to reduce the numbers of feral cats while improving their health and quality of life.
And some Humane Societies are "open door" with animal control contracts, just like a city shelter, so they do euthanize to make room. Many "open door" humane societies run programs that have helped reduce pet overpopulation in the cities they serve.  They may have the pets for many weeks, and know more about their behavior and health than a city shelter.
So it's important to understand the nature of your local animal rescues and support them for the benefit of your community. We all work together to help animals but we are separate, independent organizations.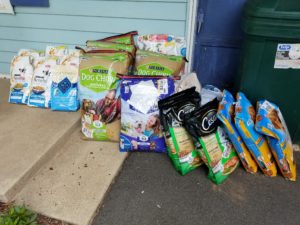 Join HSLC at the Cascades Arts and Crafts Fair.  We will have our tent up and will be having a Pet Food Drive for the Loudoun Pet Pantry program which we partner with Loudoun County Animal Services to stock shelves with pet food at Loudoun Hunger Relief.  Stop by and say Hi and donate food for the cats and dogs in our community!
Volunteers – Please click here to sign up to assist with our booth.

The Dulles 28 Target recently donated over 900 lbs of pet food to the Loudoun Pet Pantry (LPP)!  

Diane Kendall with the Reston Bible Church Food Pantry contacted HSLC about this surplus of food and helped us go over to pick it all up.  We were able to share some of the dog food not eligible for LPP with Virginia German Shepherd Rescue and some of the cat food will help to feed fosters and community cats.
Community involvement is an essential component of the No Kill Equation and HSLC is so grateful to be able to partner with such a compassionate community.