More Ways to Give
Sponsor an Animal
Be a Guardian Angel for one of our animals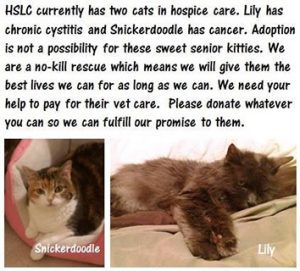 Maybe you've fallen in love with one of our animals but can't adopt. Or maybe you see a cat that has been on our site for a while that but isn't being adopted. Perhaps you've read about one of the many animals we've brought in that cannot be adopted out due to health or behavioral issues. Sponsoring an animal will help us help them and will give you a warm feeling.
You can help by sponsoring part or all of the medical expenses for one of our animals. Before adoption, all of our animals are spayed or neutered and vaccinated for Rabies and Distemper. All of our cats and kittens are tested for FIV/FeLV and our dogs are given a Heartworm/Lyme test.
You can sponsor some or all of these expenses for a specific animal or sponsor a certain number of vaccinations, tests or surgeries for several animals.
You can sponsor the expenses for one kitten, or a litter of kittens.
You can also help by sponsoring the Adoption Fee for a specific animal or several of our adoptable animals.  This would help increase our adoption rate, which in turn would help us be able to save more animals.
To sponsor one of our animals, see our donation page and in the dedication section, let us know who you want to sponsor. You can also use the Sponser Me button on any of our animal's Petfinder pages .
Donate by Mail
We're more than happy to accept donations through the mail. Send your donations to the following address:
HSLC
P.O. Box 777
Leesburg, VA, 20178
With your donation, include the following information:
Your name and address
If the donation is a memorial, in honor of, on behalf of, etc.
If you would like us to send an acknowledgement to the family or organization, please provide their name and address
If you're donating by check, make the check payable to HSLC
Visit our Donation Boxes
Life is busy. If you want to donate but need an easy way to do it, visit one of our donation boxes.