Volunteer Spotlight: Sharon Nylec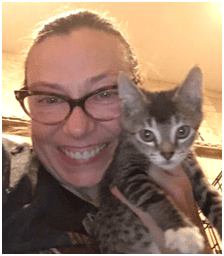 Community (or feral) cats are just like those we know and love in our households, with one important difference. Unlike pets or strays, community cats have not been socialized and tend to avoid humans. These cats go about their daily business just like their ancestors did for thousands of years. Unfortunately, they are really, really good at what they do, and left unchecked, community cat populations can expand and cause problems.
HSLC works to control community cat populations in Loudoun County through its Trap-Neuter-Release (TNR) program. Sharon Nylec has been a volunteer supporting the TNR program since 2004 and talked to us about her experience.
What activities do you support at the Human Society of Loudoun County?
I am active in the TNR program, I am also active in our Loudoun Working Cats program that places community cats with individuals, businesses, or farms that have a rodent problem. And last, but not least, I am a foster. Right now I have a mom cat with five babies, and a teenager kitten.
When did you first get involved and what prompted you to volunteer?
I first got involved with community cats when I started my job as a medical technologist at Inova Loudou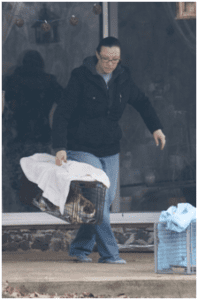 n Hospital in 1998. There were a bunch of resident cats roaming around our back, having litter, after litter, after litter. Every so often the plant operations engineers would load up a box with kittens and ask the hospital employees to adopt them. I adopted one, then another, and finally said this reproduction cycle has GOT to stop. I am at my limit of two cats!!! Of course, that two cat limit is a joke right now!
Anyway, I started doing some research with the local animal rescue groups and Alley Cat Allies, and found out about their Trap Neuter Return program. They sent someone out to help, and I was fascinated with the process. I asked them to teach me how to do it so I could manage the hospital colony, and the rest is history. We went from 20 cats in 1998 to placing our very last kitty in a home in 2016. There aren't any more cats at the hospital, so as you can see-TNR takes time, but it works!!
After the hospital cats were trapped I looked for a group more local than Alley Cat Allies that had a TNR program, and the Humane Society of Loudoun County (HSLC) was that group.
What do you most enjoy about your volunteer work?
I love working with people who adore their outdoor cats and want to make their lives better and more comfortable.  I also like working with hissy, spitty feral kittens and showing them how great human company can be.
What are the challenges/rewards?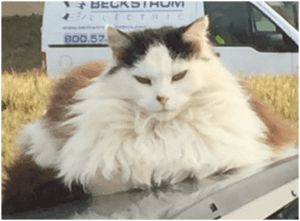 There are so many challenges…working with HSLC is a passion of mine, but I also have a job, my own family, and my pets.  Trying to find that perfect balance, trying to make it all fit in takes a lot of effort.  I truly wish there were more hours in the day so I could squeeze more work in.
Trapping community cats takes a lot of patience and perseverance, too. We have to work with the cats' schedule, so a lot of times we are out late at night in sketchy neighborhoods or up really early when we could be sleeping in.  If it's a huge cat colony, it can take up to two years to complete it.  Some cats are so smart, they learn what a trap is and avoid it.  You have to really think outside the box trap to get them!
You also asked about rewards.  Oh my, the euphoria you feel when you finally get that last smartypants mommy cat…it's a rush!  Totally worth all the time and effort I put in, just to get that feeling when the trap door closes on the last cat and you can officially say the site is done!!   One colony I did had over 50 cats.  It took me over two years and we pulled and placed 25 or more kittens.  We are still actively caring for that colony because they are too much for the current property owner to handle, but at least they are done! No more babies!
I must also mention another rewarding aspect regarding a different program with HSLC.  The foster program gives you all the "feels."  I feel good rescuing kittens from their hard lives outdoors, and I feel good pulling tame, beautiful cats out of high kill shelters.  I've had many litters of sick kittens that got better because HSLC sponsored their vet care, and it is a thrill when they are finally healthy and get adopted.  Honestly, there is nothing better than knowing you made a difference and you saved a life.
What should people do if they see a feral cat?
First of all, is it truly feral?  There is a difference between a domesticated stray and true feral.  Strays are usually vocal, and may allow you to approach.   A true feral would like you to mind your own business and they will just go on about their day, thank you very much.  They are furtive, occasionally defensive, and hardly ever vocalize.   Regardless of feral or stray, put out a bowl of food for them the same time every day and fill out our TNR request on line at https://humaneloudoun.org/tnr-application/
We will answer your requests and come to assess the cats.  If it is indeed a stray, we try to find the owner.  If we can't find the owner or it is feral, we take them to the vet to be spayed, vaccinated, treated for parasites and microchipped to identify their location.  It's an EXCELLENT program!  By the way, we take care of the community cats regardless of the caretaker's ability to pay, but if someone has the means, we do like to mention they can 'Spay it forward'.