Becky's Pet Care Partners with HSLC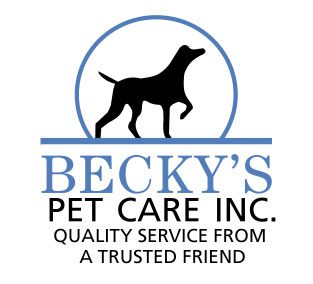 The Humane Society of Loudoun County is partnering with Becky's Pet Care, Inc., a leading professional pet sitting company serving the Northern Virginia areas. 2018 marks Becky's Pet Care's 20 years in business. In honor of adopting a pet through the Humane Society of Loudoun County, Becky's Pet Care is offering a $20 off promotional discount for any pet sitting service they offer.   Adopters will receive a coupon in their Adoption Packets.  Becky's Pet Care current serves the following areas in Loudoun County: Sterling, South Riding, Stone Ridge, Ashburn, and Oak Grove. We will be expanding soon in more Loudoun area cities and divisions.
Becky's Pet Care – Company History:
"Responding to Northern Virginia's growing need for professional pet care services, Becky O'Neil founded Becky's Pet Care, Inc. in her townhouse basement in 1998. Becky was a one-woman show, running the operation as sole proprietor and sole employee. Thanks to her strict professional standards and knack for hiring devoted animal lovers, Becky's Pet Care rapidly expanded and now occupies three commercial office space locations serving over 3,500 clients. Caring for these clients and their beloved pets are nearly 150 Pet Care Professionals and a fully-staffed administrative office.
Along the road to this stunning success, Becky cultivated a formidable expertise in small business ownership, including personnel management, systemization, marketing, business planning and development, and human resources, all in a concerted effort to render her business interactions efficient and effective for employees and clients alike.
Whether you're heading out on that quiet island getaway or just need some extra help, Becky's Pet Care is your Partner-In-Care, helping at home by looking after your dog, cat, or small animal. Just let us know when you need us, and we'll keep your pets happy while you are away. Our trained Pet Care Professionals have been serving Northern Virginia for 18 years. We guarantee the highest-quality service at an all-inclusive price, which means you don't have to worry about extra fees for medications or additional pets. We're professionals, so we only charge you for the time it takes to care for your animal. No matter where in the world you travel to, Becky's Pet Care will be there every time to keep your pet safe and content at home, with the peace of mind that your pets are in great care."