Fosters Needed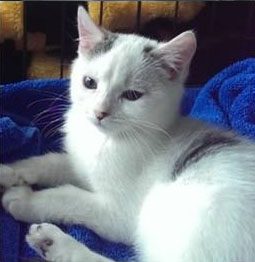 As a foster-based organization, we do not have a physical shelter. We can only save animals when we have a foster home to place them in. Are you interesting in fostering? We ask for two personal references, check with your vet to make sure your personal pets are up-to-date on vaccinations, and do a home visit/interview. To help you become familiar with the foster program and requirements, we provide quarterly Foster Orientations. We request that all new fosters attend the next scheduled one after you start fostering, or if you're more comfortable, attend one before you start fostering.
Our Foster Program has the most direct impact on saving lives of any of our programs
Why Foster?
Foster families provide a healthy and safe environment for the animal. Fostering increases the animal's chances of being adopted and helps them overcome the stress of being abandoned in a shelter. When you open your heart and home to an animal in need, you are giving them a second chance at life. Fostering lets you enjoy the companionship of a dog or cat without the long term commitment. Fostering animals is a wonderful and personal way to contribute to saving homeless animals. Fostering saves lives.
What Is Fostering?
Fostering means you are bringing a companion animal into your home to love and care for until it finds a permanent home. Fosters learn about the animal's behavior and help to socialize the animal in a loving home. Some animals come ready for adoption. Others may be scared, timid, or sick; they may need extra help and socialization to get them ready for adoption. Fostering is the bridge between what the animal's life was before (stray, abused, kill shelter) to their new life in a furever home.
Types of Fostering
Regular Fostering
Foster an animal until it is adopted. This could mean anywhere from a few days to a few months in some extreme cases.
Vacation Fostering
Foster an animal while the regular foster is out of town. This is usually a short term foster situation.
Emergency Fostering
Foster an animal temporarily because of an emergency situation, providing temporary shelter until a regular foster is found. These are occasions when an animal needs to be moved out of a dangerous situation immediately. This type of fostering requires the foster to be able to provide their own transportation. It also requires a separate room in the foster home, to keep the animal separated from personal pets until medical intake can be completed, which may take a day or two.
Short-Term Fostering
Foster an animal for one to two weeks. Generally this type of foster is needed until a regular foster is found. For cats or kittens, this could be until they are moved to one of our offsite adoption sites.
Special Needs Fostering
Foster an animal with a special need. This could include:
Diabetes
Asthma
Ringworm
Behavioral issues
Injuries
FIV+ or Felv+ cats or kittens
Mange
Animals that are sick or near the end of life